Welcome To Martin Marketing
The ShopMartinMarketing.com website offers an up-to-date product search, a way to see new items as they are introduced, as well as links to our featured products. In addition, you will find out which products are on sale by clicking on our "Specials" link above.

Click on our Facebook, Instagram, Twitter or Google+ social media links to get valuable insight into developing your brand, valuable tips on products that get noticed and valuable information about the employees behind our services.

Stop by and visit the largest promotional products showroom in the Michiana area. We are located less than four miles from Exit 92 off the Indiana Toll Road (US 80/90). We will help you plan for upcoming events, establish employee incentive programs, or find ways to reasonably promote your brand and make a lasting impression on your clients.
Featured Item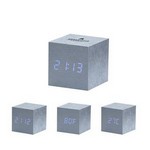 MoMA Alume Cube Clock
Designed by Natalie Sun, the Alume Cube Clock has a textured surface. Snap your fingers or tap the cube and the green LED display reveals the time, date and temperature and after a few seconds the dis...

Signature Showrooms